4 signs your relationship won't make it down the aisle
They say love is blind, but dating makes you keep those dark shades on for a bit longer. It's time to open your eyes!
You may have found a person you dig spending time with, can slightly envision a future with and love more than any other person you've ever met, but how do you know if your relationship is solid enough to make it down the aisle?
Well, the first thing you need to do is to really look at what's going on between the two of you.
Just because every day you spend together makes you feel like you're little kids again flirting on a playground, doesn't mean your foundation will be strong enough to keep things steady.
Acknowledge the problems that already exist in your relationship because every relationship has them and see if they're big enough to keep you two from potentially getting hitched.
Here are four easy ways to know if your relationship is never, ever going to make it to marriage:
Parental guidance is lacking.
A blaring red sign that you won't be heading to the altar with your partner is a lack of parental support. Do your parents dislike the person you're in love with? If so, find out their reasons. Chances are, they have a valid point about your relationship, and you're too stubborn to realize it.
Everything is temporary.
Your infatuation with your partner may keep you feeling like your head is in the clouds but look down at reality for a second. Has either of you truly shown interest in commitment? Has either of you talked about the future — moving in together, planning a vacation or where to spend the holidays?
Perhaps your relationship isn't what you thought it was and, instead, is way more casual and temporary.
You can't agree on the big things.
Perhaps you and your significant other have no problem picking out where to go for dinner or what kind of sheets to buy for your bed, but when topics get serious, neither of you can agree on anything.
These bigger, more serious topics might include whether or not to have kids, religion, where you stand on politics, where you'll settle down and if you even want to get married at all.
Trust doesn't exist.
You have to trust each other — that's the simple truth of any relationship. If one of you is constantly thinking the other is banging their co-worker, consider a wedding a big waste of time.
Why? Well, without trust, you'll find yourself constantly stressing out over every single action the other person takes, thinking they didn't do what or go where they say they did.
Lady says as she recounts lovely experience with husband
A young woman has taken to Twitter to recount her experience with her husband after he lost his job one month into their marriage.
The Twitter user, identified as @adaratheexploer, in a series of tweets, said when her husband was fired at his place of employment, he was scared that she would dump him because he could no longer provide for their family but she stood by him and became the breadwinner without complaining.
She said after her husband got back on his feet and was financially stable, he fulfilled all the promises he made to her because she was loyal to him.
Speaking from her experience, the young woman asserted that a man who loves his wife would never forget how she supported him during his trying times.
Read the full thread below,
"One month after we got married, my husband was fired from his job. We were newly married. Wedding was debt free & we used the money we got in gifts to pay down student loans. That left us with a whopping $1500 in our accounts between the two of us. $1000 in mine and $500 in his.
Fired with $500 in his bank account. That left me with $1000 in mine but I still had a biweekly paycheck because I was working. I will never forget the day he was let go. It was not like a usual day. He barely spoke to me all day and in the afternoon he texted. We have a rule – No important things are discussed by text (that's another post for another day) but I will never forget the text "hey babe, we need to talk and it's not a text conversation. Can I call you right now?" I knew this was serious so I excused myself to talk I called him.
Before I could utter a hello he broke down & told me he got fired out of nowhere. He kept saying "I don't know what I'll do if you leave. Give me time to find another job & provide". I had never seen him so afraid. He kept begging me to come home and that he would figure it out
I was baffled because leaving had never even crossed my mind! In my mind as soon as I heard the "fired" I started calculating how much overtime I could swing to carry us and our church mortgage. Oh yeah, my husband pastors a church. The whole idea that pastors steal money is wild.
We were paying several of our church's bills. Because that's what you do when there's a need. Anyway, I told my manager I had an emergency at home and left. I came home to him crying & I realized this deeply hurt him because he was used to providing and always had done so.
Now a month later that was being snatched and things were about to get shaky. We would struggle a bit. However, never in my mind did I think about leaving. In fact, I got another job. For better or worse was imprinted on my soul. So we had dinner that night.
We didn't have a kitchen table so we sat on our pull out couch and ate Wendy's. He said "babe, I know it doesn't seem like it right now but we can come back from this. I just need a little time. Please just give me time. To which my question was obvious – how much time.
He said he didn't know but he gave me his word that it would happen and my dream of being a stay home wife would happen. Dreams are funny little things. They require work to become reality. And that's what we did. We worked together. And I never once spoke down to him.
He just needed time and for me to trust. Fast forward, everything he promised, he made good on. The moral of this is that a man who loves his woman never forgets how she was there when he lost everything. When he is in the position to, he will later give her everything and more."
See below,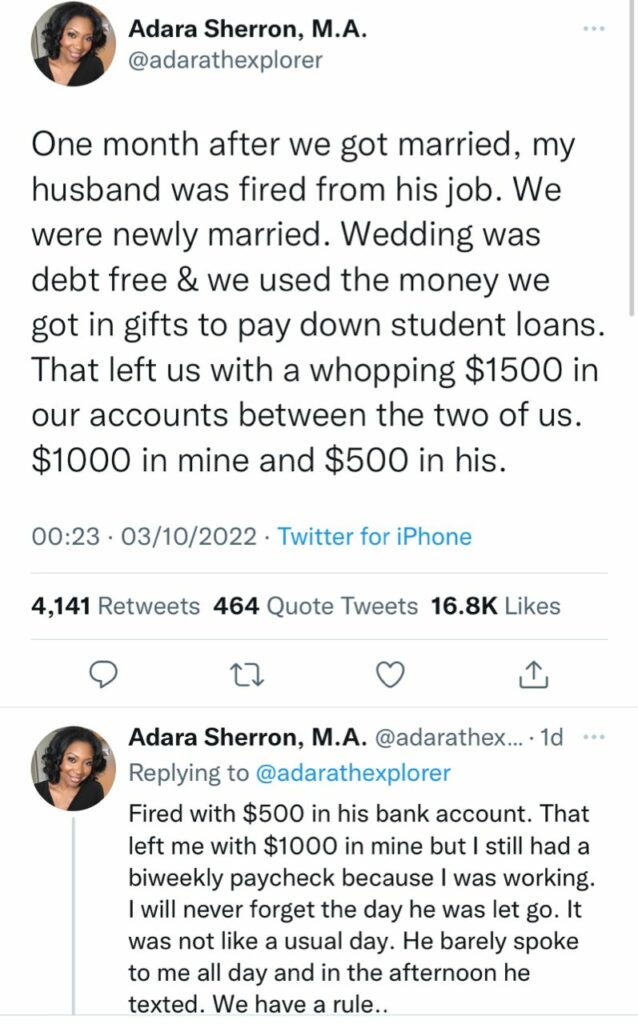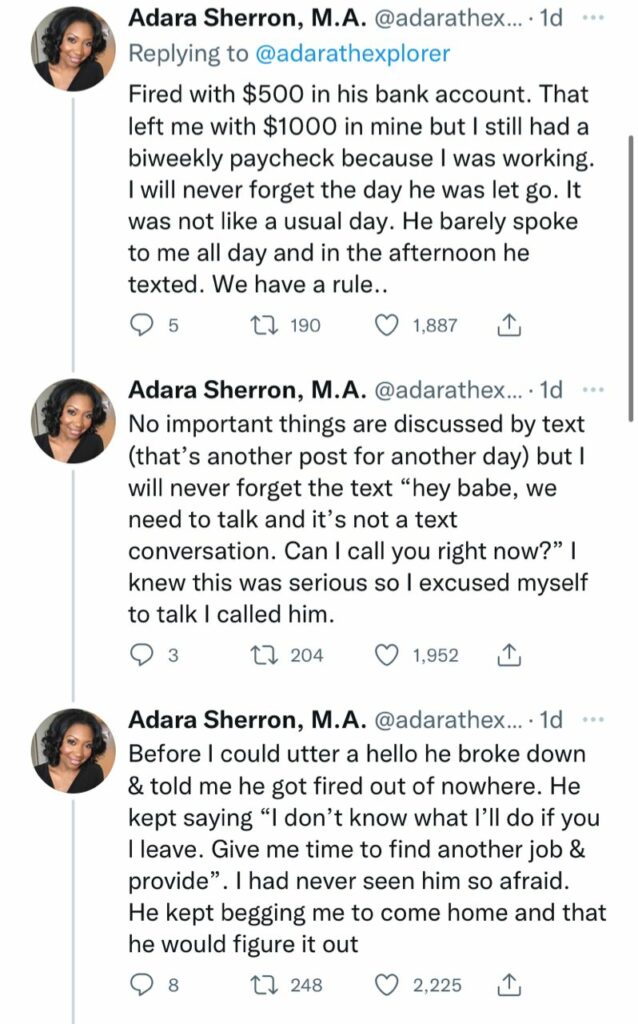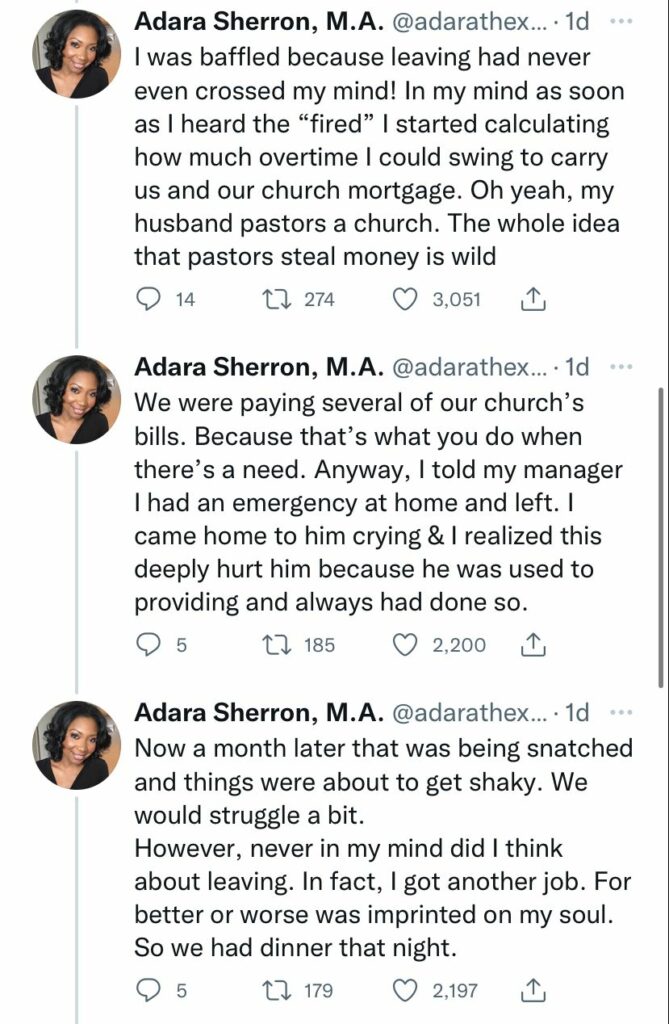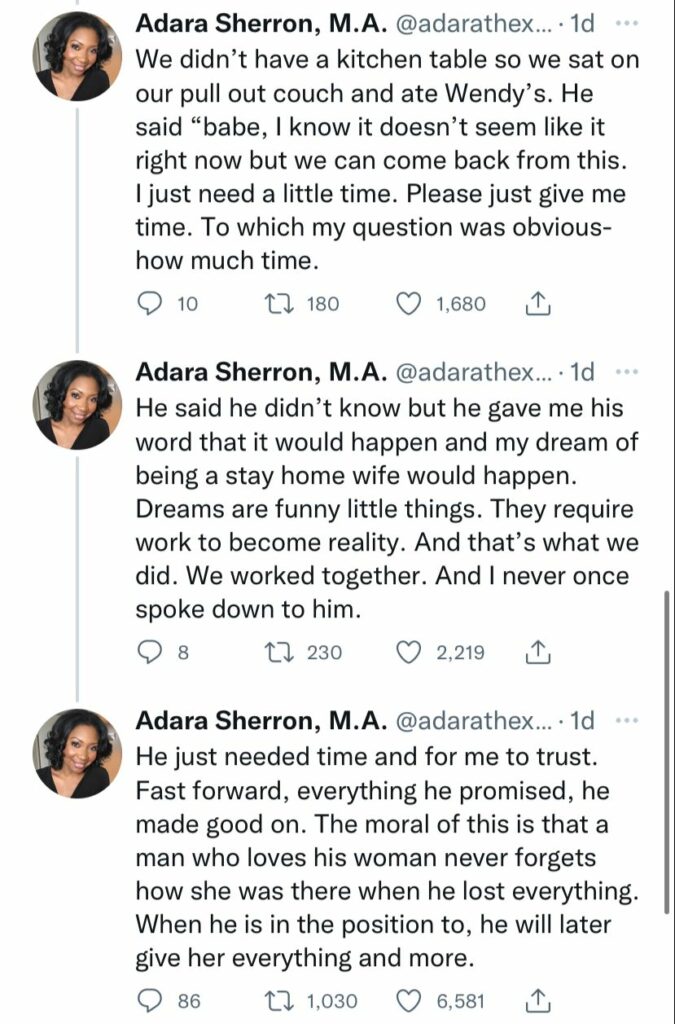 Tiktok star, Hajia Bintu, uploads eye-pop video, slammed over desperation to trend
TikTok Star and influencer Hajia Bintu once again seize attention on social media, as she posts another challenge video.
In the video, one thing that caught peoples attention was poosy which was shaped down there. Many who watched the video watched it twice because other accessories accompanied with the video.
Video below:
View this post on Instagram
22 Hospitality Limited buys Sheraton's parent company, Capital Hotels
Capital Hotels Plc, owners of the Abuja-based luxury hotel, Sheraton, said 22 Hospitality Limited has procured 66.1 per cent of its outstanding shares in exchange for a controlling stake in the company.
A purchase of a company's total issued shares crossing the 50 per cent threshold is deemed a buyout. Capital Hotels has not posted annual profit in the last two years.
The transaction is the end of a series of off-market deals conducted for months, and means Hans Gremlin Nigeria Limited will be yielding to 22 Hospitality Limited the ownership crown it had worn for two decades.
"All the required regulatory approvals have been received for the transaction," Capital Hotels said in a statement posted on the Nigerian Exchange's website.
Capital Hotels set out earlier in the year to raise capital for, what it said, was the renovation of the hotel.
The board sought to approach it by way of rights issue and made a proposal during an emergency general meeting in April to sell new shares to existing shareholders at N7 per share at a time a unit was selling for N3.19 in the market.
A refusal by shareholders to endorse the offer for fear it would erode their rights meant the board turned to private placement as a second option. In all, 1,611,995,510 shares were allotted to 22 Hospitality Hospital at N7 per unit when that was concluded, totaling N11.3 billion.
The company's share price, which had been stuck at N3.19 for at least seven months to 23rd May, jumped to N3.40 that date but has not moved again ever since.
The share purchase transferred 51 per cent of the company's outstanding shares to 22 Hospitality Limited.
"In addition, 22 Hospitality Limited also bought 456,641,337, and 21,562,293 Ordinary Shares of 50 kobo each representing 14.45% and 0.68% of the equity share capital of the Company, from Hans Gremlin Nigeria Limited and Associated Ventures International Limited respectively through Offer for Sale," according to the statement.
Altogether, the new owner's holding in the firm translates to 2,090,199,140 ordinary shares.
Bank of Industry Limited, Ministry of Finance Incorporated, Nigeria Re-insurance Corporation and Continental Energy Resources Limited are among the substantial shareholders of Capital Hotels, its 2021 audited financial statement shows.