Man calls out Teni over unfulfilled N100K promise
A Nigerian man has called out singer, Teni on social media, over an alleged promise of N100k, which is still unfulfilled at the moment.
According to the man, identified as @taiwooflovelybrozy, Teni who was in Ibadan in September this year for an event, promised him the sum of one hundred thousand naira (N100,000) while performing on stage, but hasn't kept the promise.
He claimed that Teni had asked him to meet her manager at the back stage for the cash gift, at the time. However, upon meeting the manager, he was made to write down his account number and also asked to copy the manager's number on Teni's Instagram page to send his account number for the money to be sent to his account.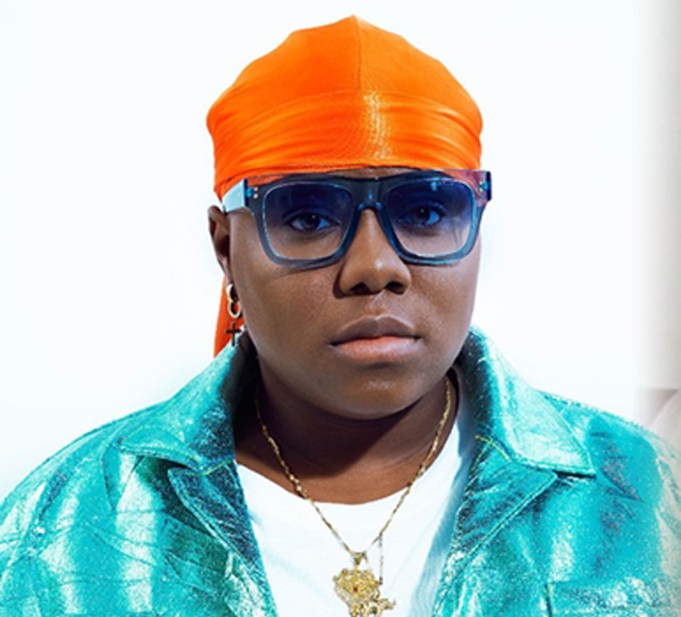 The man said he called Teni manager's number the next day, but he gave an excuse that the singer was busy and would get back to him when she is less busy.
He also revealed that he called back the following day, but was told the same excuse and after that, the manager refused to pick up his calls or reply his messages, even after sending numerous messages stating that his life and many things in his family depends on the money.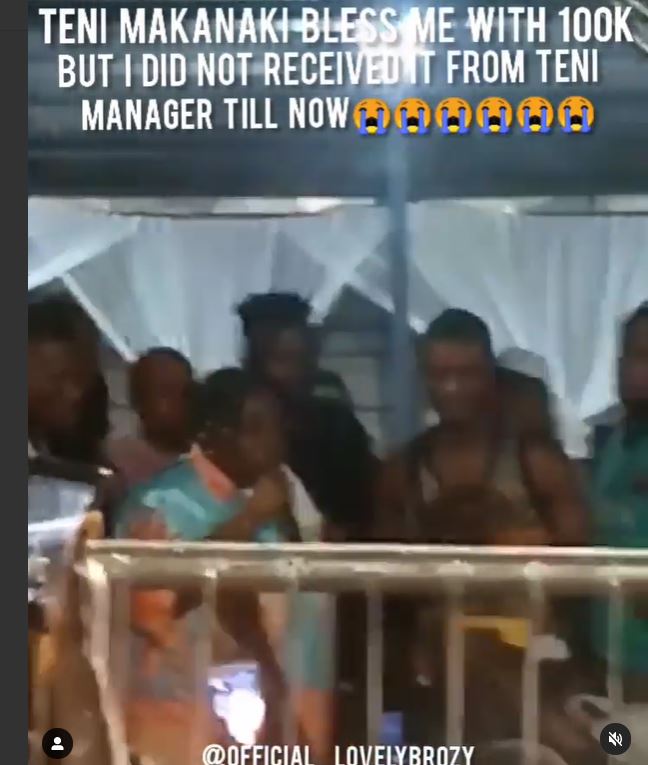 To backup his claims, he has shared a video clip which captured the moment, where Teni on stage, promised to give him the money.
Watch the video below:
Video of Yemi Alade's protruding belly leaves internet users talking
A female Nigerian artiste, Yemi Alade, has left many internet users talking online as video captured her protruding belly.
Yemi Alade has sparked reactions with a teaser for her African Baddie video shared on her Instagram page with many of her followers wondering if she is pregnant.
Yemi Alade, who had been recently robbed in Cote D'Ivoire, recently dropped her new hit album and it featured the likes of Phyno, Bisa Kdei, Zlatan and others.
In the teaser video, Yemi Alade wore a black body hug outfit and whined about her waist but what caught the attention of many of her fans was her "baby bump like" tummy in the video.
Some other fans on the other hand chose to defend Yemi Alade by querying those body-shaming her.
Watch the video below:
View this post on Instagram
Some reactions are shown below:
sheis_desola said, "Is it me or my eyes seeing double I thought she was pregnant 🥺".
tkdevinee said, "There is nothing wrong with her tummy. She's naturally curvy. Any curvy lady with over flat tummy na surgery."
orobo__god said, "Are you pregnant 🫃 dear ?"
vickluchis said, "At first i thought she was pregnant tho🌚🙈".
kul.chor said, "The way y'all switch sides is amazing. If her body changed y'all will be very quick to say she went under the knife and all that, she's all natural and y'all still complaining. How about we just learn to appreciate beauty and leave people's bodies alone. Be setting unnecessary standards and then sham those who try to live up to it."
nenkilicious said, "If person do surgery una go talk , if person no do wuna go talk mtcheeeww 🤦🏻‍♀️🤦🏻‍♀️🤦🏻‍♀️you can never ever ever ever eveeer please humans . Just live your life for you oh".
phylliskwatsikor said, "All I saw in this video was an African woman loving her body ,accepting herself,ignoring trolls ,living her true dreams in her true body.She is the real definition of beauty (My marks are beauty marks from Mother Nature) @yemialade you are the first grand daughter of MAMA Africa.You are the best ❤️❤️❤️❤️❤️❤️❤️❤️❤️❤️❤️❤️❤️👏👏👏👏👏🔥🔥🔥🔥🔥🔥".
Falegan calls actress mad woman after twerking for Ooni of Ife
Following a trending video of actress Nkechi Blessing twerking for the Ooni of Ife, her ex-lover Opeyemi Falegan has addressed her as a Madwoman.
"A mad person is good to watch but nobody wants them as a child, what a pity" Opeyemi Falegan subtly reacted to the viral video on Instagram.
Nollywood actress, Nkechi Blessing earlier caused a stir online as a video of her twerking for the Ooni of Ife is fast making rounds.
The Yoruba actress while at the Ooni's palace in Ile-Ife town for the Queen Moremi pageantry could be seen twerking for the Ooni and one of his queens, Olori Aderonke.
Nkechi Blessing applies to be Ooni's wife
Recall that in October, Nkechi Blessing Sunday had applied to be one of the wives of the Ooni of Ife.
The talented actress took to Instagram to share a video of her and the monarch.
According to Nkechi Blessing, she wants to be the Ooni's next wife and would patiently wait for her turn.
The mother of one provided an Instagram page for the Ooni to reach her through.
"Ooni of Ife sir I am patiently waiting for my turn. Thank you in advance sir, you can reach me thru #idrisconnectingnigeria".
Nkechi storms the Ooni's palace
Taking things further, Nkechi Blessing had revealed her new name as she stormed the Ooni of Ife's palace.
NBS took to her Instagram page to share stunning photos of her at the palace.
Greeting her fans, Nkechi Blessing told them to address her as Olori Ibukunoluwa.
"Good evening from the palace of Ooni of Ife. Olori Ibukunoluwa ki yin oooo. Customized Adire Bubu".
My bum is over-exaggerated, JMK reveals
Reality TV star, Jumoke Zainab Adedoyin aka JMK has stated people usually over-exaggerate the size of her butt.
The curvy former BBNaija 'Shine Ya Eye' housemate explained she always has that feeling whenever her backside is being described by people as extremely big.
JMK concluded it's actually not as big as they say it is.
"I always feel like people over-exaggerate the size of my bum. It's really not that big," she wrote.