Man who stole his cousin's UK visa days before his trip and killed his dreams, confesses 20 years later
A man who reportedly hid his cousin's UK visa days before he was to relocate out of Nigeria to study, is said to have confessed 20 years after the incident.
Twitter user, @Lady_itohan, took to the micro-blogging platform to share this story in reaction to the trending conversation about people who became extra cautious after securing their visas to travel abroad.
Some disclosed that they reduced their movement and stopped going out for fear of dying in an accident. Others narrated how they safeguarded their travel documents and refused to tell any soul where they kept it.
Reacting, Lady Itohan stated that their paranoia is justified because not everyone would be happy that they are leaving the country in search of greener pastures.
She went on to reveal that her uncle's visa disappeared few days before his trip and the culprit who happened to be his cousin, confessed to stealing it 20 years later after battling a strange illness.
According to her, her uncle is almost 80-years-old now but the incident killed his dreams.
She wrote on Twitter,
"His paranoia might seem hilarious but my uncle's visa varnished some days before he was to travel to UK for school and that was the end of his dream! The thief, his cousin, who was jealous at that time, confessed 20 years later!!! #TrueStory
Happened when my uncle was 26…He's almost 80 now. His cousin confessed when he was about to die as a result of a strange ailment."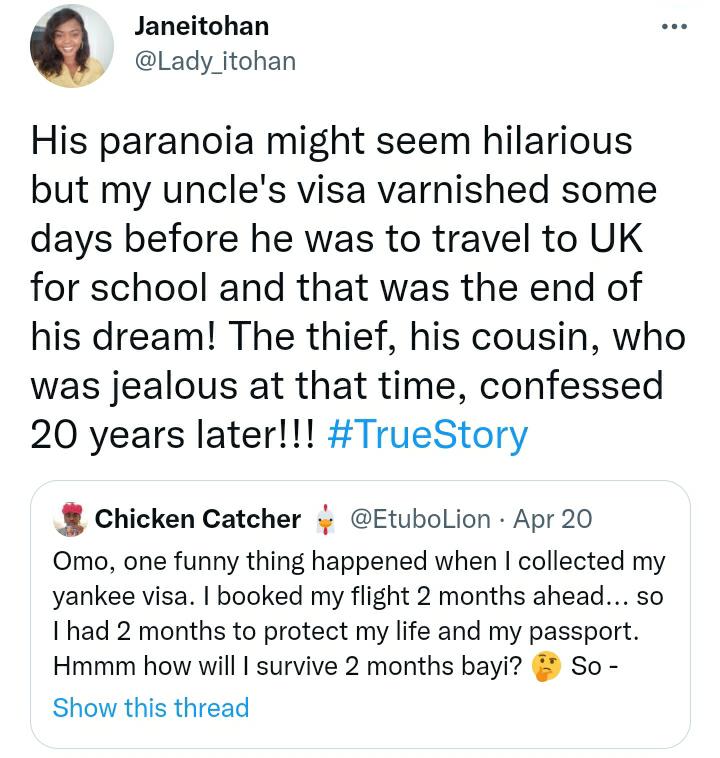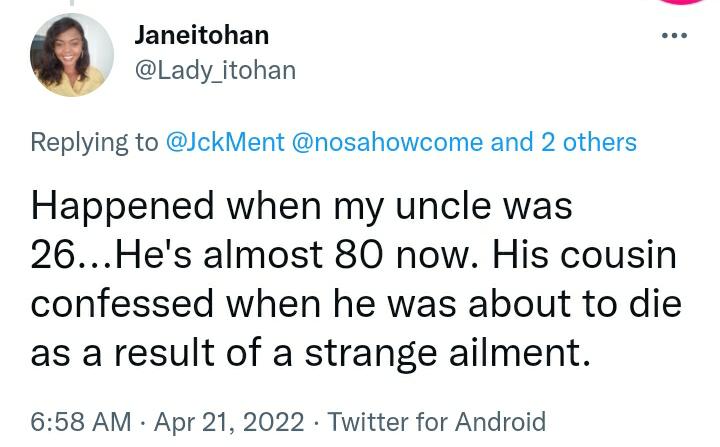 OPC arrests two for stealing machine in Lagos
Members of the Oodua People's Congress, on Monday, arrested two men who allegedly stole a vulcanising machine from a store at Mile 12, in the Kosofe Local Government Area of Lagos State.
The Chief Security Officer of the Gani Adams-led faction of the OPC, Rotimi Obayemi, that the suspects confessed to stealing the machine after it was found with them.
He identified the suspects as Sanni Aminu, 30, and Ibrahim Salisu, 29.
Obayemi said, "I was called by the OPC chairman who told me that they had caught two thieves. On arrival, I interrogated the suspects in Hausa because they did not understand English. They both confessed that they broke into a store at Underbridge, Mile 12, and stole the machine."
Aminu, who claimed to be a wheelbarrow pusher at the Mile 12 Market, said, "I accompanied my brother last night. I didn't know that he was going to steal the machine."
The Lagos State Chairman, OPC, Okanlomo Adeniyi, said the police had been informed of the incident and that the suspects and the stolen machine would be handed over to the authorities.
Okanlomo said, "We have reported the case to the Ikeja division of the police command; they are on their way. We will hand over the suspects and the stolen machine to them when they get here."
He noted that the case would be monitored to ensure that the machine was returned to its owner.
As of the time of filing this report, attempts to speak to the state Police Public Relations Officer, SP Benjamin Hundeyin, were unsuccessful.
BREAKING: Kidnap kingpin, Evans, sentenced to 21 years imprisonment
Kidnap kingpin Chukwudumeme Onwuamadike, also known as Evans, and his co-defendant, Victor Aduba, have been sentenced to 21 years imprisonment for kidnapping one Sylvanus Hafia.
The sentence was issued by Justice Oluwatoyin Taiwo of the Ikeja Special Offences Court on Monday.
Both convicts had been accused of conspiring and kidnapping Sylvanus Ahanonu Hafia at about 5:30 pm on June 23, 2014, at Kara Street, Amuwo Odofin in Lagos.
After succeeding with the abduction, they demanded $2 million as ransome.
Pleading not guilty, Justice Taiwo proceeded with the sentence on the grounds that it would serve as a deterrent to other aspiring kidnappers.
Flutterwave accused of data breach, unauthorise access to customer account (Photos)
An investigative journalist and Twitter lord, David Hundeyin, has again attacked Flutterwave over data breach and unathourised access to his inactive Barter account, a lifestyle payments solution by the company.
This won't be the first time Hundeyin would be dragging the fintech company. Recall that Freelanews reports how Flutterwave's CEO was being investigated over allegations of financial misconduct as a result of an exclusive report by the controversial journalist.
In a series of post on his Twitter handle, Hundeyin claimed his account was logged into and threatened the platform of serious consequences if any fraud is perpetrated by impersonating him.
"Hi @theflutterwave. I have sent an email requesting immediate deactivation of my inactive Barter account.
"Someone has somehow gained access to that account without hacking my email which is impossible without an internal data breach from your end," he wrote.
While analysing the break-in, the journalist explained that his username was messed with.
"The person logged into my Barter account which is paired to a Wema Bank account linked to my BVN (which is viewable under the 'security' tab), and changed the name on the account.
"I cannot begin to describe the amount of trouble you are in if any fraud is carried out in my name," he submitted.