Simi Announces The Release Date Of Her Upcoming Album
Talented vocalist Simi has announced the release date of her new album.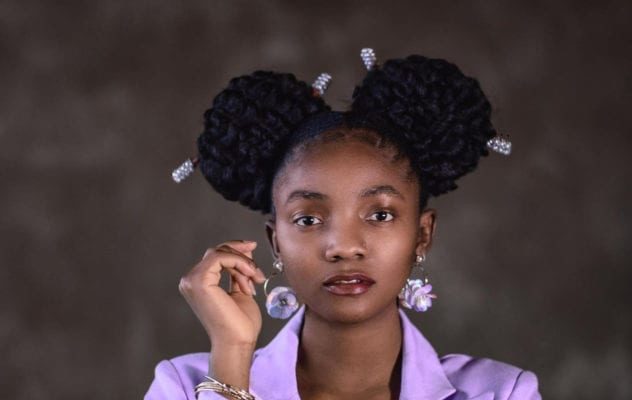 Singer and songwriter Simisola Bolatito Ogunleye who is professionally known as Simi has announced that she would be releasing an album titled "To Be Honest" in 2022.
The singer took to her social media platform today, Tuesday, May 3, 2022, to make the official announcement that 'To Be Honest' would be released on the 3rd Of June 2022.
This would be her fifth studio album following the success of her last album 'Omo Charlie Champagne, Vol. 1'  which was released in 2019.
Her most recent body of work is her EP 'Restless II' which was released in 2020. The woman singer is set to take center stage again and people are super excited about this.
The singer shared the news on her social media platform with the hand written message that read:
Hey You,

I've been trying to tell you a story for close to three years, I've been desperate to tell you something. Something to help me show you the thoughts I'm thinking… the feelings I'm feeling. I started to start, but then I got pregnant and said "not yet."

Then my child was in my arms. In the arms of a woman whose love was so great, that it swallowed her whole and left her unsteady. It confused me, but for some reason, for a season, I became less sure – of the stories I wanted to tell. Of the way I wanted to tell them. I craved clarity. So again, I said "not yet."

Moths passed, and I believed the moment had come. i was certain it was the time and that the stars had finally alligned. "Eureka," I thought.

But when I listened, alone and in the dark I didn't feel right. It felt too much like my story was tainted by too many second and third party opinions. Opinions and ideas I usually cherish and lean on – but not for this story. Just me, so again, I said "not yet."

I paused my impatience, listened to only the voices in my head, trusted in only the instincts I was born with. Now, when I listen in the dark, or in all the places the sun likes to shine, alone or with everybody else , it feels right. Eureka!

On the 3rd of June I will share this story with you finally. #ToBeHonest.
Singer Portable captures hearts as artiste performs Apostle off album with live band (Video)
Controversial Nigerian singer Habeeb Okikiola better known as Portable who has been known for always trending for the wrong reasons has managed to captured the hearts of netizens in his latest video.
In the videos shared by Portable via his official Instagram page, the singer performs a track titled, Apostle off his new album with a live band while on the podcast tagged "Echoo Room."
Recall Intel Region had earlier reported that Portable who breaks into the Nigerian music industry with his hit song "Zazoo Zeh" featuring Olamide and Poco Lee in December 2021 released his debut album "Ika of Africa" on November 25th, 2022.
According to Portable the album houses 16 tracks with no feature noting that he would only feature artistes for remix.
While on the podcast, Portable dished out a brighter side of him as he sings his song, apostle featuring the loba band crew whose Instrumentals and backups were absolutely nothing but amazing.
The song, Apostle by Portable addresses the trending conversation among Nigerian pastors who uses the money donated by church members to get bulletproof cars for themselves and families as they don't want to go heaven.
Sharing the video, Portable accompanied it with the caption, "I had fun today doing one track out of my album titled Apostle with the loba band crew @echooroom_ I can't wait for you all to watch what we came up with … wait on it #Drzeh #zehnation #zazlive band Nice one @babyluvgram."
View this post on Instagram
FUJI: A Opera returns with 'Fuji Vibrations': Bigger, Better and Louder
FUJI: A Opera, the premier multi-dimensional entertainment platform, is back, bigger and better than ever with FUJI Vibrations.
On December 8th, FUJI Vibrations will provide a one-of-a-kind live music experience showcasing exceptional talent from the FUJI world for one night only. 10 acts will perform on 1 single stage at Muri Okunola Park, one of Lagos' most iconic music venues.
The live music concert will feature a fantastic line-up of Fuji artistes, including Alhaji Sefiu Alao, KS1 Malaika, Taye Currency, King Saheed Osupa, and the Mayegun of Egbaland, K1 De Ultimate, paired with emerging Fuji talents to create dynamic sounds.
Fuji: A Opera premiered in December 2020 at the Alliance Française de Lagos/Mike Adenuga Centre in Lagos. Over 20,000 people attended, ranging from schoolchildren to culture custodians and other corporate and social Nigerians.
FUJI: A Opera curated a series of activations in 2021, beginning with a two-phased art exhibition in November in collaboration with one of Nigeria's rising artists, Bidemi Tata, inspired by the Fuji Music subculture. These works were first shown in collaboration with the Lagos State Government and the Lagos State Parks and Recreational Agency. Over 2 (two) million people viewed the exhibition over the course of three weeks.
In December 2021, we held the first edition of Fuji Vibrations, which featured General Ayinla Kollington, Alhaji Rasheed Merenge, Saheed Osupa, Adio Atawewe, Remi Aluko, Kolade Onanuga, also known as KWAM 2, and many other upcoming acts. These events drew over 15,000 concertgoers and had over 1 million online streamers.
If you missed last year's shows, make plans to join us this December and experience live music like never before. To attend, simply follow us on social media @fujiopera for more information or go to Tix.africa: https://tix.africa/discover/fujiopera now to register. Admission is free.
Fuji Vibrations is proudly supported by the Lagos State Government, the Ministry of Tourism, Art, and Culture, the Lagos State Parks and Gardens Agency, the Lagos State Security Trust Fund, the Lagos State Signage and Advertisement Agency, FUMAN, GoldBerg Beer, Supa Komando, and Regal Dry Gin, among others.
Music: Teni – Maitama ft. Mayorkun, Costa Titch
TENI MAITAMA, Makanaki Drops Hot New Single Featuring MAYORKUN, COSTA TITCH & CH'CCO, Listen Here!
Today Nigerian superstar Teni releases her new single "Maitama", Produced by Jay Synths and 'Bigfish', via Platoon.
'Maitama' is the follow-up to her previous single 'Little (I Love I Love)' and arrives hot on the heels of her COLORS Show performance, Watch HERE. 'Maitama' leans into the South African house sound where Teni's distinctive and honeyed vocals entwine with the sounds of the long drum; a familiar hallmark within Amapiano.
Teni embraces her native vernacular on this track, which she layers over the infectious beat, surrounded by high-pitched piano melodies and rippled baselines. The single features guest vocals from Nigeria's very own 'mayor', singer Mayorkun and South African artists, rapper Costa Titch and multi-award-winning singer Ch'cco.
Named after a leafy town in Nigeria, 'Maitama' takes us on a journey where Teni leaves her hometown to embark on new adventures, her final destination unknown but always acknowledging her evolvement along the way.
Listen and Get Maitama below;