Ladies celebrate after their Yahoo boyfriends cashed out $6,000 after performing 'sacrifice' for them (video)
A video circulating online shows the moment two young women dating internet fraudsters better known as Yahoo Boys, were jubilating after their boyfriends received funds from their 'clients'.
In the trending video, one of the ladies who was overtly excited, revealed that they did sacrifice for their boyfriends to be successful and in less than 24 hours, they cashed out $6,000 (N2.5m).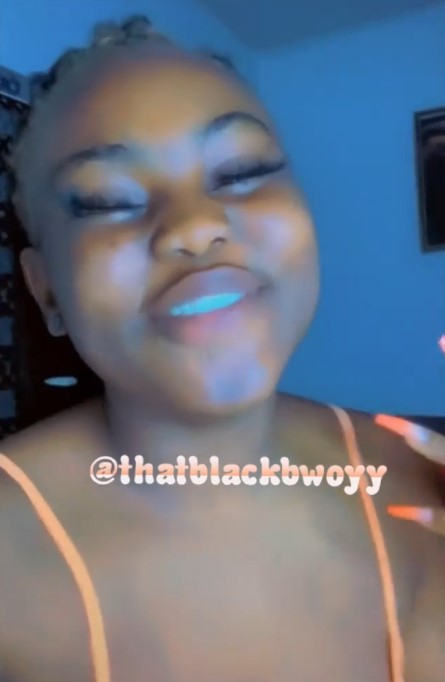 She also filmed the young men who were seen pressing their phones, and hailed them for their big win while praying for them to make more money.
The young lady who could barely keep calm as she talked about living large with the fund, also attached a video of the moment she was carrying out a sacrifice for her partner.
In the video, she is seen tying a white cloth around her chest and head while mixing some unidentified items in a bowl.
Watch the video below,
Vid Crd: Instagram/thatblackbwoyy
In other news, it was quite an emotional moment for a Nigerian boy as his girlfriend treated him to a pleasant surprise on his birthday.
In the trending video, the boy's lover, who is about his age, organized a surprise party for him and arranged with his friends to bring him to the venue.
The moment he entered the room and saw what his woman had done for him, he got emotional and fought to hold back the tears building up in his eyes.
While still struggling to put his words together to express gratitude to his girlfriend, he quietly went to her, gave her a tight hug and thanked her for the surprise.
Olori Sekinat unshaken despite monarch's second wife, several girlfriends (Video)
Olori Sekinat Elegushi, the first wife of Elegushi of Ikate land, Oba Saheed Elegushi has opened up on her marriage to him.
While speaking on cheating in marriage, Olori Sekinat concurred that there is no man that doesn't cheat. Justifying her husband's philandering ways, she reaffirmed that all men cheat and as such, doesn't see it as a deal breaker in her marriage.
The wife of the monarch admitted that her husband has girlfriends, but she is unbothered by his affairs because she knows she is number one. According to her, her husband puts her first and she remains unshaken because she knows her position as his wife.
She added that even when he got a second wife, she wasn't moved because she remains the first and no one can take her place.
"There is no man that doesn't cheat. All men cheat. Even though my hubby has girlfriends, he respects me and out me first. No woman can shake me because I know my position as his wife. I remain the first. No one can take my place".
How Oba Elegushi's decision to take second wife broke me – Olori Sekinat opens up
Olori Sekinat seems to be contradicting herself, as days back, she opened up on how her husband's second marriage broke her.
The Queen recounted how her husband's decision to pick a second wife, Hadiza Yakasai, in May 2019, broke her emotionally.
In an interview with Kemi Ashefon, Olori Sekinat said the news of a second wife came around when her mother died. Yet, she said she still had to deal with the fact that the man she loved was marrying another woman. Read more here.
Oba Elegushi married Sekinat in 2003, and they have three daughters.
View this post on Instagram
HealthGarde holds annual stakeholders convention in Lagos
HealthGarde International has held its third year anniversary, in Lagos on Saturday, January 28, with attendees cutting across Nigeria, South Africa and Uganda, aiming at boosting the company's market penetration for 2023.
The network marketing company is an African company dedicated to improving people's quality of life by creating wealth through health and at the same time promoting physical wellness.
In a media chat with Freelanews, the chief operating officer of the company, Lovelyn Bassey, stated that the convention is a way to reward top achievers.
"Every year, we have an international convention, where we recognise top achievers in our company from the world. We look at the body of work they've done within one year and then reward the top performers," Bassey said.
While speaking further on the importance of HealthGarde in an African society, Bassey stated that the company also targets self-sufficiency for women as one of its focal points.
"One of the biggest messages that we try to send across as a company is that women have a voice and can also bring the bacon home. They don't have to be a burden to their husbands but a partner by also contributing in the home. This way, the husbands don't need to drop dead by overworking themselves to cater for the financial needs of their families alone."
On her part, the chief executive officer of the company, Nneka Nwarueze, revealed that HealthGarde is neither a ponzi nor a get-rich-quick schemes.
"HealthGarde is a networking marketing of international standard and founded by a Nigerian in 2019. As a matter of fact, it is the first international network marketing company by an African woman. I've been in network marketing for over 20years with majority of those years spent representing SwissGarde for 17years until it ceased operation.
"In order to provide an alternative for entrepreneurs, who depended on the business SwissGarde for sustenance when it closed shop, we started HealthGarde," Nwarueze revealed.
The founder also disclosed that aside from the empowerment provided by the network marketing company, an affiliated foundation has successfully empowered over 300 women.
"HealthGarde is also the first network marketing company owned by a Nigerian that has a foundation. And with it, we have been able to empower over 300 women on various programmes.
"Currently, we have four university graduates and about 15 pupils in primary schools, who graduated through our scholarship programme and are currently on one respectively.
"However, our network marketing company is not a ponzi scheme nor a scam, which is one of the reasons we've been expanding in the last three years of operations. I can authoritatively say that we have bases in South Africa, Uganda, Ghana and United States, while we already have our eyes set on Cameroon."
The founder also spoke on the uniqueness of HealthGarde products.
"Our products are exceptional as they're non-synthetic and we know their origin; they are mainly from African herbs and pocket-friendly."
The company's brand ambassador, a Zimbabwean-South African retired professional rugby union player and current world champion, Tendai Mtawarira, said he provided a balance for a company predominantly seen as a woman organisation.
"The services rendered by HealthGarde shouldn't be seen as only for the female gender. Through my endorsement, men are encouraged to come onboard too and make money selling wellness," Mtawarira submitted.
According to HealthGarde, the manufacturing of their products have received International Good Manufacturing Practices (GMP) registration which verifies that proper methods, equipment, and controls is in place to produce the highest quality dietary supplement products.
Battle On Buka Street production crew allegedly threatens to battle Funke Akindele
When the title of the new movie by the Peoples Democratic Party's candidate and popular producer, Funke Akindele, was being put together, little did she and the production crew know that it may take a real life form.
Battle on Buka Street is a 2022 Nollywood movie about rivalry between two adversaries. The story goes that after a lifetime of rivalry, two women find themselves at loggerheads once again when they set up food businesses on the same street.
However, things are beginning to take another dimensions as the movie is getting set to be screened at the cinemas around Nigeria.
According to an anonymous source, the production crew members of movie are already spoiling for war with the producer cum politician over what might seem like an innocent Instagram post to market the movie by Akindele.
Akindele excitedly took to her Instagram handle to promote the movie, but some of the texts in the narrative don't seem to sit well with the crew.
"I wore so many hats on this project ranging from story development to screenplay, producing, acting, directing, production design amongst others. It was quite challenging but I enjoyed every bit of it.
"It's going to be A Buka festive Christmas!!!! Let's come out in numbers and go see this movie.
"December 16, 2022 is the date! Keep it locked down. #battleonbukastreet, #actor, #director, #producer, #funkeakindele, #FAAN," she bragged.
View this post on Instagram
The source informed Freelanews that the bone of contention in the writeup was that Akindele is always in the habit of taking the shine off other people's work.
"In the body text of this IG post, she claimed to have multitasked in all areas. The crew that worked on the project and signed necessary documents are ready for showdown. They claimed that's what she does always.
"She is fond of taking credit for people's professional works on her projects. They are not only going to drag her to court, but also ready to fight dirty.
"They acknowledged she loves murky waters and they are ready to outperform her in the gutters. Spiritual for spiritual, gutter for gutter, legal for legal," she said.
Freelanews was also informed that the crew threatened that if the movie should come out and proper credits are not given to the crew, there would be real battle.
"They have started compiling their location pictures, agreement, etc.
"I was telling them not to act on the IG message, somebody might have written the post for her because of her electioneering schedules. I have pleaded that they should wait for the film to come out, check the end credit before taking any action.
"I have sued for peace among the crew, though they told me that's her style. And that's why they had recorded all the process in readiness for situation like this," she said.
Funke Akindele indeed wears many hats, not only in the new movie about to be released soon as she proudly wrote on her IG handle, she has also been busy on the electioneering campaign in order to ensure victory for her political party in the forthcoming election in 2023.
In July this year, the gubernatorial candidate of PDP in Lagos State, Dr. Abdul-Azeez Olajide Adediran (Jandor), chose Akindele as his running mate.
She stated that the new task ahead gives her a much bigger facet of service to humanity.
"With my known career in the entertainment industry spanning over 25years, and the God-given grace to achieve quite remarkable success, I've a privilege of access to work and engage with people from all works and strata of life," she revealed, adding that within the last 25years, she had watched, with great concern, the plight of the less fortunate in Lagos.
Some practitioners in the industry still find it hard to be believe such a personalty could be accused of robbing people off their hard earned credit.
"I still don't want to believe all these allegations until the movie is out. I'll be looking out for the end credits," another movie producer submitted.