2 Years Later, Joeboy Finally Responds to Zlatan's Insulting Comment About Him
2 years ago, in June of 2020, Nigerian singer Zlatan Ibile went on a random Instagram rant where he called out a number of musicians including Kizz Daniel, Burna Boy, and Joeboy and said some choice words about them.
About Joeboy, Zlatan posted on his story: "Joeboy fit sabi sing E fit get numbers pass me ! Does he know about the music business or he is just famous"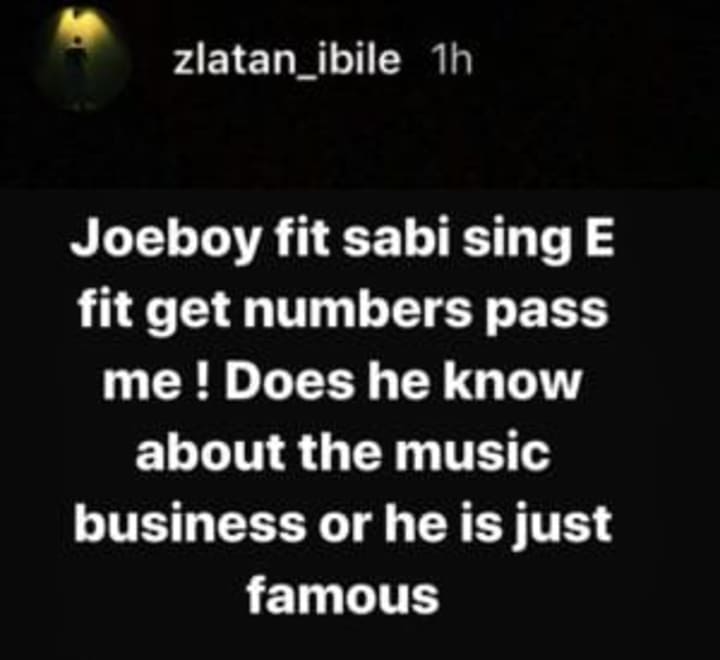 At the time when Zlatan wrote this about Joeboy, Joeboy said nothing. In fact, Joeboy has not once talked about this post at all. Not until now.
During a recent chat with Chude Jideonwo, Joeboy and Chude got into a conversation about Zlatan's rant and Joeboy finally opened up about how he felt about it and what he has to say about it now. Joeboy also on a lighter note talked about his method of dating now that he is a big celebrity. Here's what he said.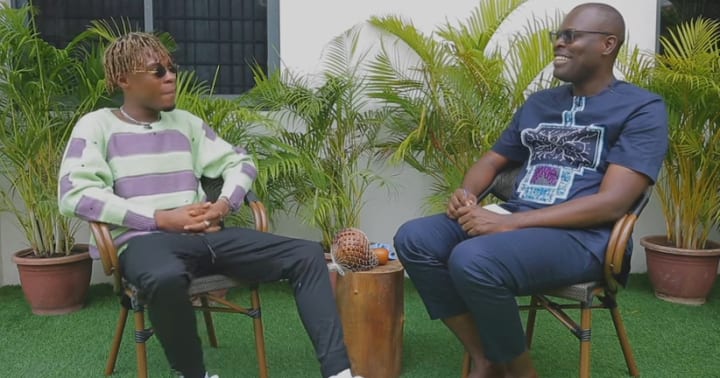 Without further ado, here is the relevant excerpt of the conversation between Joeboy and Chude.
Chude: Is it true that Zlatan said you don't understand the music business?

Joeboy: I swear down. Yeah, he said it.

Chude: So how did you take it?

Joeboy: Anybody can say what they want to say. Yes now, the truth is I can say that the sun is red, but is the sun red? The sun knows it's not red so anybody can say what they want to say. I know what I'm about.

Chude: But what was that about?

Joeboy: I actually have no idea.

Chude: You guys haven't had any beef?

Joeboy: Nope. I don't do beef. I don't do beef at all.

Chude: So that just came out of nowhere?

Joeboy: Yeah, it just came out of nowhere. It was around the pandemic and I'd already gotten to that stage (where these types of things stopped bothering me), that's why I didn't reply, I didn't respond, I didn't say anything.

Chude: And what did your guys around you say when this happened?

Joeboy: I can't say it on camera (laughs).

Chude: On a different note, what is it like to be a star in this time and date? Like how do you meet people that you know aren't just meeting you for clout?"

Joeboy: I still meet people. I have some factors that I gauge in my head before (I approach). When I see someone's page, there are some things I will check out from her post that will make me to know okay, this person is like this, this person is like that. I'm a very observant person. I will know. I'm this type of person that I read people cuz I'm quiet so I can just let you talk for an hour and I will know, I will have an idea of what you're about. So even from a page, I can know is it this person I want to DM? I could even send you a message, from your response, I will know the kind of person you could be.

Chude: Are you even able to send people messages these days?

Joeboy: I do it sometimes if I'm feeling good or I'm feeling some type of way. Sometimes you just have to live man, you can't be too uptight. If I send you a DM and I say hi, what's the worst that you could make of it? Okay Joeboy said hi, and so?
Shatta Wale kneels to apologise to event sponsor for failing to perform
Shatta Wale has apologized to the sponsor of the Hogbgetsoto festival for failing to perform despite an existing contract.
In a video shared by blogger, Ronnieiseverywhere, Shatta Wale was captured with Bola Ray and officials of the sponsor while asking for their forgiveness for the Dancehall artiste.
"It's unfortunate what happened, but you are the CEO I will let the man (Shatta Wale) himself speak," Bola said.
Right after the ace broadcaster ended his speech, the 'On God' artiste quickly knelt before the Executive Director of Total Family Health Organisation and brand owner of Ebony Condoms, Joseph Addo-Yobo, to apologise for missing a show they had billed him to be a star performer for.
Before Shatta Wale could bend both his knees, Addo-Yobo held the musician and asked him to take his seat while expressing shock at Shatta's actions and demeanour and and the lady among them who stated that it was unnecessary wasn't the reason for their gathering.
The" Gringo" hitmaker had been billed to perform at the Hogbetsotso Beach Rave festival in Tegbi in the Volta Region, an event sponsored by Ebony Condoms on November 8, 2022.
According to reports, Shatta who was billed as the headliner of the event had made it to the town for the festival, however, due to a scuffle between him and one of the event organiser about an appearance for an interview, Shatta left.
It was said to be a chaotic scene as disappointed fans who were gathered at the venue attacked some organisers by pelting stones at them and destroying their gadgets.
After days of silence, Shatta has taken to social media to state reasons for his absence on stage.
Stating his own side of the story, the Dancehall artiste expressed that he was disrespected by the organizers.
Hitting on his point, Shatta asserted that he was driven directly to a radio station to grant an interview when he already had an agreement with organizers that he would not participate in such an arrangement or even greet any chief.
He added that one of the organizers threatened to withhold his accommodation if he fails to grant the interview and that was when he took off.
My bum is over-exaggerated, JMK reveals
Reality TV star, Jumoke Zainab Adedoyin aka JMK has stated people usually over-exaggerate the size of her butt.
The curvy former BBNaija 'Shine Ya Eye' housemate explained she always has that feeling whenever her backside is being described by people as extremely big.
JMK concluded it's actually not as big as they say it is.
"I always feel like people over-exaggerate the size of my bum. It's really not that big," she wrote.
Vin Diesel honours Fast & Furious' Paul Walker for 9th anniversary of his death
Vin Diesel has honored fast & furious star Paul Walker in commemoration for ninth year anniversary over his death.
The Guardians of the Galaxy star commemorated the nine-year anniversary of Paul's death by sharing a throwback photo of himself and the late actor to Instagram.
Vin captioned the Nov. 29 post, "Nine years… love you and miss you."
Paul died on Nov. 30, 2013 at age 40 due to a car crash. And in the years since his passing, Vin has been vocal about the tremendous loss he has suffered having been very close to Paul—who he acted alongside in five Fast & Furious films—for over a decade.
Immediately following the tragedy of his passing, Vin shared a touching tribute in honor of him and his legacy.
"Pablo, I wish you could see the world right now… and the profound impact, your full life has had on it, on Us… on me," Vin wrote on Facebook at the time, referring to his nickname for Paul.
Vin Diesel is keeping Paul Walker in his heart year after year.